Miami Beach Luxury Homes
---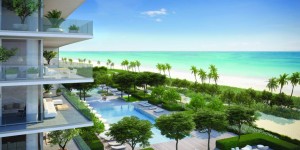 Discover the opulent oceanfront residences and refined coastal estates that set apart Miami Beach real estate as affording a lifestyle of luxury. The upscale properties in this South Florida city are some of the most sought-after investments in the world. If you're considering pursuing your own place to call home near Miami Beach, you need only one resource, and that's us. Turchin Group is a leading provider of upmarket realty services. Our site includes a complete inventory of area listings, so you can get off on the right foot with just a simple search.
Miami Beach and its surrounding neighborhoods attract buyers and investors from all backgrounds and with various goals in mind. It is no question why this region is hailed as one of the most vibrant destinations in the country. From young professionals to retirees, there is quite the mix of interest. At the center of this attention are the homes for sale. Are you one of many seeking the house that embodies what you want out of the Miami way of living? Let Turchin Group deliver it for you.
Whether it's an immaculate, modern house with historic detail set on tropical grounds or a two-story home nestled on a quiet street with views of the water, you can't go wrong. These properties are known for spectacular views and convenient locations. Those who vacation here cannot fight the urge to stay, and many end up establishing a permanent spot in their dream city. You can have the same fate.
Miami Beach luxury homes are as charmingly diverse as its shops, galleries, entertainment, and restaurants. They are in high demand because of their style and proximity to the rest of the South Florida oasis. The finest listings of Miami Beach are no further than a click away. Offering an attractive display of architectural elements, settings, amenities, and more, real estate of this caliber has never looked so good.