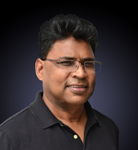 Alfred Chetram has been a licensed real estate agent in the State of Florida since September 2003 and he has been practicing accounting since 1981 to present. His accounting career started back in 1981 in Kingston Jamaica where he worked with The Grace Kennedy Group of Companies Travel Department from 1981 – 1987. He migrated to the United States in 1987 and since then he worked for two other companies as their accountant before joining the Turchin Companies In November 1999 as their Chief Financial Officer.
As the accountant for the real estate division of the Turchin Companies, Turchin Properties, he was inspired by the many high-end sales and multiple closings with huge commission earnings, that led him to obtaining his real estate license in 2003.
Though not fully involved in direct real estate sales, he was personally involved with the management and control of all of the Turchin projects and development including all construction projects and real estate development. One such development was The Lodges At Eagles Nest Banner Elk, North Carolina. He was responsible for all financial management and controls from the inception of this development to completion and selling phase. During the selling phase, all HUD documents and sales closing documents were reviewed, reconciled and posted by him to ensure proper accounting.
In addition to being the accountant for The Lodges At Eagles Nest, he was and continue to be the accountant for Turchin other subsidiary, Mountain Sotheby's International Realty, a Licensed Real Estate Firm in The State Of North Carolina. As the accountant his responsibilities included the review and reconciliation of all HUD / closing documents, recording and disbursement of all sales proceeds and sales commission. He is also the custodial for the Firm's Trust account performing all state required accounting and reporting.
With his extensive accounting experience especially in the real estate industry and his knowledge of today's real estate market he is most suitable to handle all your real estate needs.